Angular Contact Ball Bearings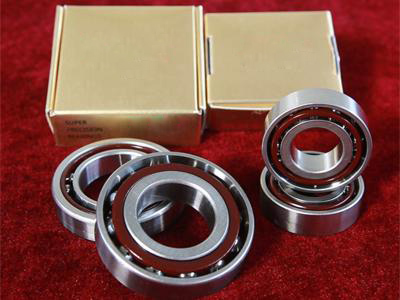 Angular contact ball bearings can support both radial and axial loads. The axial load capacity is determined by the contact angle: the larger the contact angle, the higher the axial load capacity. Angular contact bearings are generally divided into several types according to the contact angle including 7000C-type (α=15°), 7000AC-type (α=25°) and 7000B-type (α=40°).
Single row angular contact ball bearings are capable of supporting only a unidirectional axial load, which makes them ideal for use in machine tool spindles, high-frequency motors, gas turbines, centrifuges, minicar front wheels, difference velocity machine pinion shafts, booster pumps, drilling platforms and food machinery.
Double row angular contact ball bearings are capable of supporting both a radial and axial load, making them ideal for working conditions with high rigidity requirements, such as oil pumps, root blowers, and air compressors.
Four point contact ball bearings are designed specifically for oil free lubrication screw compressors. The 35°contact angular design will extend the bearing service life, thus minimizing maintenance costs.